Learn From The Experienced. Train with the Elite. Reach Your Goals.
Never Give Up Training is relentless about helping clients achieve their best fitness. No matter where you're starting from, we'll help you get to where you want to be. We strive to be a place for personal growth, hoping your physical strength translates into inner strength and ultimately a healthier, happier you.
NGU workouts are always dynamic, never boring. We offer a variety of highly-effective, results-driven group classes in an intimate, encouraging setting. Our 1-on-1 services include personal training, nutrition counseling, sport-specific training for high school and college athletes and training plans for races, marathons and triathlons. With a creative mix of classic and innovative training techniques, our talented trainers bring something different to each session to keep workouts fun and effective. However you work out, we promise to do everything we can to help you become your best self. Your goals are our goals.
Ali jackson, owneR of never give up
Ali Cook Jackson is founder, owner and head trainer of Never Give Up. A undergraduate of Villanova University majoring in Business, Ali will soon be completed her Masters in Secondary and Special Education.
Ali is a sponsored IRONMAN™ Triathlete and IRONMAN™ Certified Coach, consistently ranking in the top overall standings - including podium finishes within her age group. Ali has qualified for the Age Group National Championships and Regional Championships. Her multiple certifications will deliver results, help you meet your goals, and lead you to a healthy lifestyle you love.
Ali is a retired nationally-ranked, show jumping equestrian and held ranking in the top national standings for over fifteen years. When she was 17 years old, she had a devastating surgery that forced her to move on from the sport of Show Jumping. Despite the doctors saying she would not be able to run again, Ali proved them wrong by Never Giving Up.
In addition to her passion for fitness and healthy lifestyle, Ali's love for education and teaching has transferred over to create an invincible combination she utilizes in her training methods. Recognizing goal coaching and performance evaluations as an integral part of any success, Ali also has a knack for adjusting to anyone's individual needs. With high energy and focused goal-oriented training and instruction style, her sessions and classes will not only motivate you, but also challenge you and have you seeing results in no time.
Ali's goal is for athletes of all levels to enter the Never Give Up studio and feel comfortable to let go, try their hardest and walk out feeling gratified. Ali believes the best results aren't fast - but are achieved in healthy ways.
Voted 2019 Family Favorite Personal Trainer by Main Line Parent LOVE Awards
Voted 2016 Best of Manayunk Personal Trainer

Morgan Dowd, Head personal trainer & fitness instructor
Morgan is an NGU Group Fitness Instructor and Head Personal Trainer. Morgan is a NASM Certified Personal Trainer and graduate of Saint Joseph's University. Growing up she was constantly active as a gymnast & competitive cheerleader, until an ankle injury ended her college cheerleading career at Rutgers University. It was at that point that she became extremely conscious of her body & weight which ultimately spiraled into a nearly fatal eating disorder. After 4 years in recovery, she consciously chose to turn her unhealthy obsession with exercise into a healthy outlet to manage stress and anxiety. She believes that getting that second chance at life has only fueled her passion to inspire wellness through exercise. Morgan has a passion for continued education in functional training and nutrition in order to provide the best for all of her clients and classes.
Morgan instructs NGU50 ZONE + ABS, Small Group Personal Training, Small Group Training, NGU50 ZONE, Strength Training, and TRX ZONE. ➝
Madison comes to us as a recent Temple University graduate who majored in Kinesiology with a concentration in Exercise Science. She currently works full-time as a Health Fitness Specialist at the Vanguard campus in Malvern, PA. Madison is certified in the Les Mills program BODYFLOW and has been teaching group exercise for the past two years. Madison's childhood was filled with 15 years of extensive dance training and competitive dance competitions. Her love of dance and camaraderie with her dance teammates inspired Madison to pursue a career in corporate fitness and group exercise where she is able to continue pursuing her passions of dance, exercise, and working with others. On top of dance and exercise, Madison loves to travel and spends as much time at the beach during the summer as she can! Madison cannot wait to push her classes to their full potential each session they train with her at Never Give Up Training!
Lamar has been active in sports and fitness for over 20 years, with experience in high school and semi-pro athletics (basketball, track, baseball and boxing). Lamar attended Berean Institute for computer science before attending the Community College of Philadelphia for a degree in education. There, he found his true passion for health and fitness. Lamar is certified as a Personal Trainer through W.I.T.S
(World International Training), and also has certifications through PTA Global and Dotfit.
Lamar tailors training to all levels of performance and specializes in strength and conditioning, while teaching and promoting healthy lifestyles. Lamar's specialties are Plyometrics, weight loss management, strength and conditioning.
"All things can be accomplished with hard work, dedication, and sacrifice!"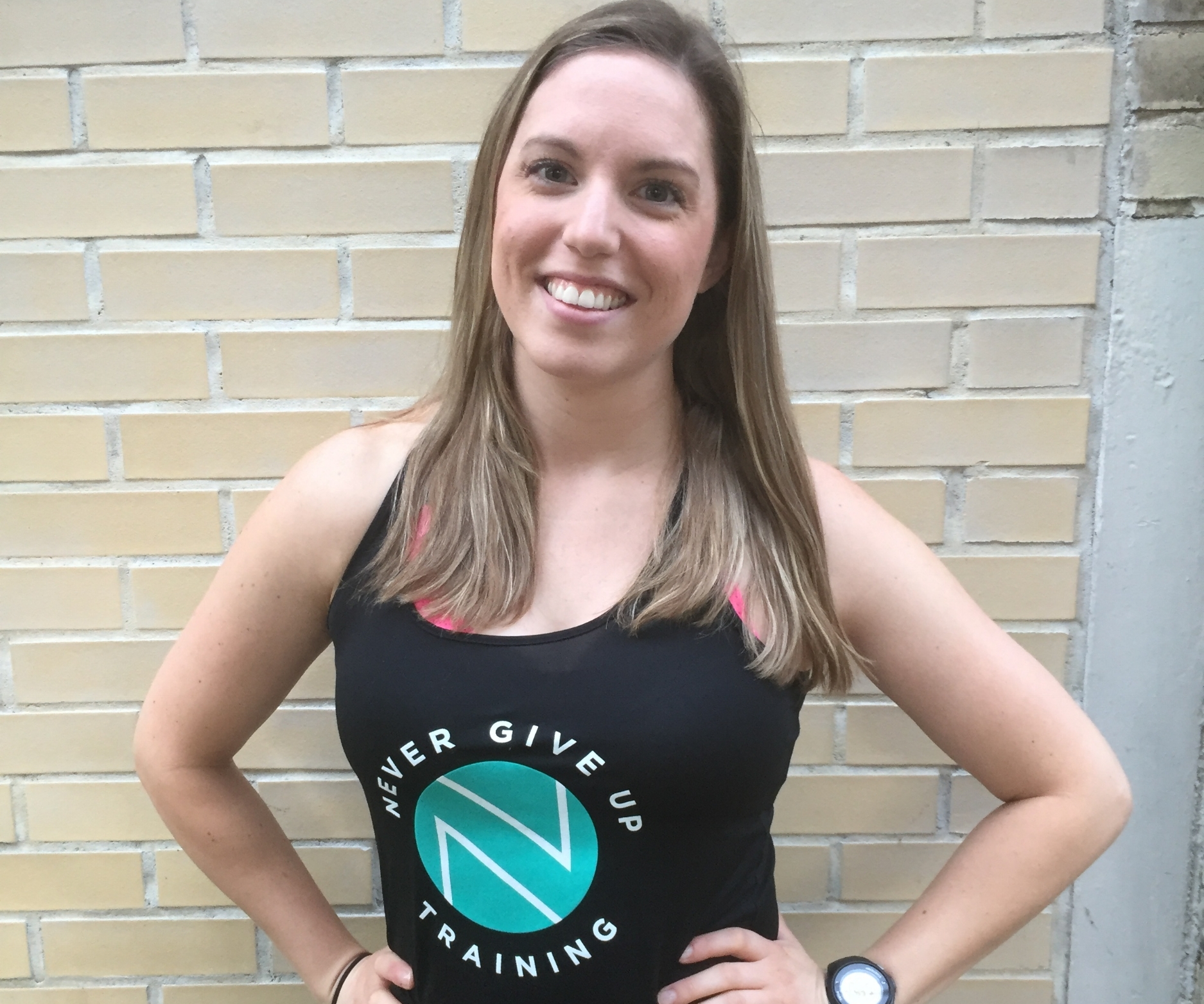 Jen is a Philadelphia native, living in the suburbs for most of her life until she moved to Manayunk 6 years ago. She has had a passion for fitness and nutrition for most of her life—one of the few kids at daycare that actually *liked* to eat her vegetables! In high school she danced and played intramural volleyball and in college continued to dance and found a passion for TRX and step aerobics. Jen has always enjoyed recreationally running; she is a member of the Manayunk Beer Runners group, and recently completed her first Half Marathon.
Jen graduated from Immaculata University with a degree in Marketing and minored in Business & Entrepreneurship. She was fortunate enough to obtain a job in her field, but being a people-person and enjoying being active, she soon found that a desk job was not for her. She self-studied for the NASM CPT exam and is now a Certified Personal Trainer. Jen is constantly learning and continuing her education so she can be informed and provide the best training for clients that are at any point in their fitness journeys. She believes that fitness should be energetic and fun but of course, change never occurs without a challenge!
Certifications/Courses: NASM-CPT, CPR/AED, Geriatric Functional Strengthening
Marlie is a graduate of the University of Maryland with a bachelor's degree in Kinesiology. She is currently enrolled in the Masters of Science in Athletic Training at Jefferson-East Falls. Marlie is originally from New Jersey and has over five years of experience working as a personal trainer and group fitness instructor.
Asia is a born and raised Philadelphian! She played basketball her whole life and played at Binghamton University in New York which sparked her interest in fitness. Asia started working in the fitness center on campus and became a manager and certified personal trainer her senior year of college. After graduation, she worked as a personal trainer and did small group training in Boston but she recently moved back to Philly with her 1 year old pitty pup. She works full time as an Insurance agent but excited to be apart of the NGU family!
Sam was born and raised in State College, Pennsylvania, where he was active in sports and fitness from a young age. He played soccer for Penn State where he was a three-year letter winner and two-year starter. After graduation, Sam got various certifications and worked doing small group training and teaching boot camps before moving to Manayunk in August of 2018. He has been working out at NGU as a client since moving here and loved it so much, he is now thrilled to now be a part of the NGU team.
Laison is a New York Native and Army Veteran with over 10 years of Service. He is a Master Fitness Trainer certified through the Army as well as a small-group basic training instructor. After leaving the Army, Laison spent time in the military contract training, developing and creating battlefield operations curriculum to Marines all over the world. He found himself at an impasse missing his fire for instilling motivation through fitness which brought him to NGU. He has a passion and fire for pushing people beyond what their limits are. He believes that heart and motivation through everything will always push you to succeed. Laison lives by the mantra "One Team, One Fight," a thought that has always resided by him during his time deployed to Afghanistan and helping bring everyone home. He believes that this is a reminder that no matter who you are, we are all included, and we have to depend on each other.
Laison's experience has taken him places all over the world where he has taught small-group and tactical training to many soldiers while deployed to Afghanistan. An avid runner and competitor Laison competes for fun in 5K's and 10-Milers; building up one day to run a full marathon. He loves going to spin class and does it at least 5 times a week!
Life in general can be difficult; we all have jobs and responsibilities. If for one moment in the day I can take you to a place where you can feel your strongest, my job is done. Fitness is supposed to be fun and is about getting you to YOUR goal, whatever that may be, I will get you there!
Briana comes to NGU with a bubbly personality and is ready to bring energetic and challenging classes! With a background in Army Combat Training, physical therapy and group fitness, Briana brings a lot of experience and knowledge to the table. Briana played soccer and gymnastics growing up and has always prioritized her physical health, though she struggled with body image issues throughout her teens. Now, through weight lifting and balance, Briana is more body positive than ever! Unfortunately, Briana is reminded of the importance of health everyday because she is affected by Lyme disease. However, she has even more respect for what the body can do and is more passionate about living a healthy lifestyle! Briana is AAAI-CPT, NCSF- CPT certified with Army Combat Basic Training and Advanced Individual Training.
Kirsten grew up in Haddonfield, NJ, where she was an avid ballet dancer for ten years and track and field sprinter. She continued her love of running at the collegiate level at Ursinus College (Class of 2012), as one of the Centennial Conference's top-3 200m and 400m athletes. Her accolades include: numerous medal finishes in the 200m, 400m, and sprint relay events during both the indoor and outdoor seasons, still holding the outdoor women's 400m school record, and being ranked in the top-10 nationally for the Division III women's 400m as a junior.
Although suffering a season-ending injury her senior year, Kirsten acted as sprint team captain and cheered her teammates on to several personal and team top conference finishes! Kirsten's academic background includes both Bachelors and Masters degrees in Neuroscience, but she ultimately found her calling away from research and instead with fitness and coaching.
A Manayunk resident since 2014, her extensive athletic experiences and time coaching her high school girls sprint team allow her to bring seasoned knowledge of correct form, power, and explosiveness to each of her classes. Kirsten loves to incorporate dynamic strength movement into her workouts as well as taking advantage of the famous Manayunk hills. She is USA Track & Field Level-1 Coaching certified and working toward her NASM PT certification.
Miles is originally from Richmond, VA and has vast experience in the fitness field.
He was a 4 year letterman in football at Hampton University, where he graduated with a B.S in Business Management. His college career was decorated with multiple All Conference awards as well as being a three time team captain.
After finishing his collegiate career, he participated in a rookie minicamp with San Diego Chargers, later to be signed by the Ottawa Redblacks of the Canadian Football League. During his first year with the team they won the 104 Grey Cup. After his football career ended, he entered the fitness training realm and started training athletes from all backgrounds.
His philosophy on training consists of mobility, strength, conditioning and maximum effort. His classes are challenging and upbeat which cultivates an environment for improvement and fun!
We can't stop thinking about our workout with the City Fit Girls!. Who knew you could have so much fun while working so hard? Oh wait, we did because that's what we're all about at NGU! #NGUMNYK #CityFitGirls
Kickoff your summer weekends right! Never Give Up is now embracing our clients' summer hours with SUMMER FRIDAYS. Join us for a different dynamic workout every Friday at 2:00 PM. Register on our scheduling page!
Daily News
ALI JACKSON, 27, of Bala Cynwyd, is owner and head personal trainer of Never Give Up Training, a total-body fitness center in Manayunk that offers a variety of group fitness classes and personalized training. Jackson, an Ironman triathlete, opened her studio in March 2013...
Philly.com
Ali Jackson was a promising equestrian athlete, preparing to compete in show jumping in the Olympics before emergency surgery was preformed to save her leg from being amputated.
"Doctors told me I'd be lucky to walk again," she recalls.
Well, she's doing a little more than walking now.
Manayunk Patch
Ali Cook never gives up.
It's something her brother taught her. It's something she thinks about everyday.
"My brother runs triathlons," Cook said. "It's something I wanted to try, just for the heck of it really."